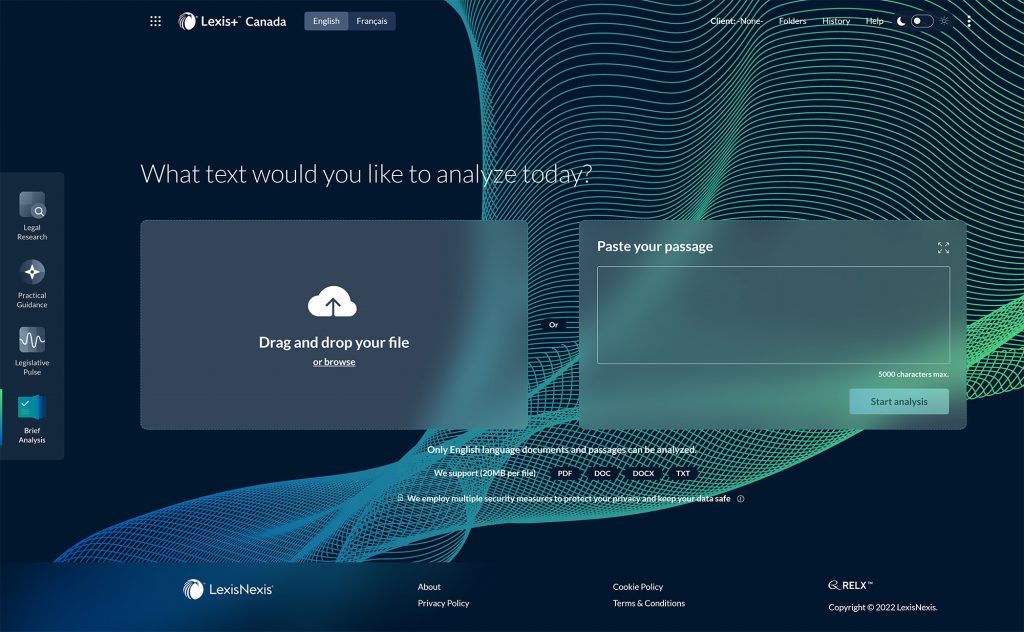 First came Lexis+, which LexisNexis launched in the U.S. two years ago as its next-generation premium legal research platform. Then, last May, came Lexis+ UK, the version tailored to the UK market. Now comes Lexis+ Canada, as the company today launches its product there.
When I first wrote about the U.S. version of Lexis+ two years ago, I said that LexisNexis had designed it "for users who want an all-in-one, end-to-end platform that incorporates the latest powerhouse technologies, including several that are unique to this product."
The same is true for the Canadian version, which is now live and available to customers. The company says that Lexis+ Canada provides access to a comprehensive collection of LexisNexis primary law information, including the most complete collection of courts and administrative decisions, Quantums, case digests, case citators and current awareness sources.
It also introduces products and features new to the Canadian market, including the first brief analysis tool specifically for Canadian lawyers and a market standards research tool with advanced analytics on markets and deals.
Related: Hands On with Lexis+, New Premium Research Service from LexisNexis That Officially Launches Today.
It also includes access to Halsbury's Laws of Canada, the only up-to-date national legal encyclopedia. Lexis+ Canada also includes LexisNexis Online Research Service, with over 490 full-text textbooks and looseleaf publications in more than 30 different areas of law.
For Canadian lawyers who need access to international legal research data, the platform allows them to toggle on access to research from the U.S., U.K., France, Australia, New Zealand and Hong Kong (depending, of course, on the access allowed by their subscription plan).
"We're really excited to introduce these new technology-aided benefits that had been less developed in the Canadian market, leveraging advanced machine learning models to power things like Lexis+ Answers, Brief Analysis, and the Market Standard solution," Jeff Pfeifer, chief product officer for Canada, the U.K., and the U.S., told me during an advance preview of the platform, presented together with Alan Votary, director of online product management for LexisNexis Canada.
"In each case," Pfeifer continued, "all three of those things are brand new to the market in Canada, and are representative of the kind of development that we've been able to do both locally to tailor to the local content, but also to extend technical development and model development that we have worked on previously in the U.S. and the UK."
Unique Features
Among other unique features, Lexis+ Canada introduces what is — as far as I can determine — the first brief analysis tool created specifically for the Canadian market.
Like other brief analysis tools in the U.S. market — including LexisNexis's own such tool in Lexis+ — the Canadian version analyzes briefs to extract citations and legal concepts and then recommend other relevant cases that the brief does not include.
Another unique feature of Lexis+ Canada is that the platform is bilingual so that it can be used by both English- and French-speaking legal professionals. While not all content is available in both languages, the user interface is bilingual and many of the resources are as well. Over time, Pfeifer said, it will expand the quantity of French content. For now, labels within the product highlight when something is available only in English.
Four 'Experiences'
Lexis+ Canada encompasses four "experiences," as it calls them: Legal Research, Practical Guidance, Legislative Pulse, and Brief Analysis. Within these experiences are a number of notable features.
Practical Guidance. Practical guidance is fully integrated within the platform to provide practice notes, precedents, checklists, drafting tools and industry insights. While this has the same name as the U.S. version, its content is tailored to Canadian practice and is contributed by Canadian lawyers.
It includes another feature that is new to the Canadian audience: Market Standards data and analytics. According to Pfeiffer, it goes beyond what is available from Canada's System for Electronic Document Analysis and Retrieval (SEDAR) by providing interactive data and analytics and the ability to drill down into data on the underlying deals.
Lexis+ Answers. This feature responds to natural language search queries with what the algorithm determines to be the best, most relevant answer. The feature is dynamic, meaning that the answers are not pre-selected, but generated by a method that scores query results. When the scores are high enough to meet a certain confidence level, Lexis+ creates an answer.
Legislative Pulse. The platform provides integrated bill tracking to enable users to obtain information on the progress of bills in the federal and provincial legislatures.
Boolean Search Trees. This feature graphically depicts Boolean searches and highlights the impact of each
keyword on search results, enabling users to refine searches for the best results.
Search Term Maps. Another visual search aid, it depicts clusters of search terms within search results and documents across major content types, making it easer to move through search results and find relevant information.
Lexis+ Canada is deployed through LexisNexis's AWS center in Montreal so that all of the data stays within the country.
Pfeifer said the platform addresses a concern raised by many Canadian lawyers, as well as by lawyers in the U.S. and U.K., about context switching and the uncertainty about where to find information that you are not sure if you have access to. "Lexis+ solves that problem by bringing those capabilities together in a more integrated product experience."
He said the user experience is also designed in a way as to give users greater confidence in the completeness of their research and the thoroughness of their research activity. "That's really where a lot of the focus around the UX design came from."
LexisNexis says it plans to release versions of Lexis+ for other countries "in the coming months."