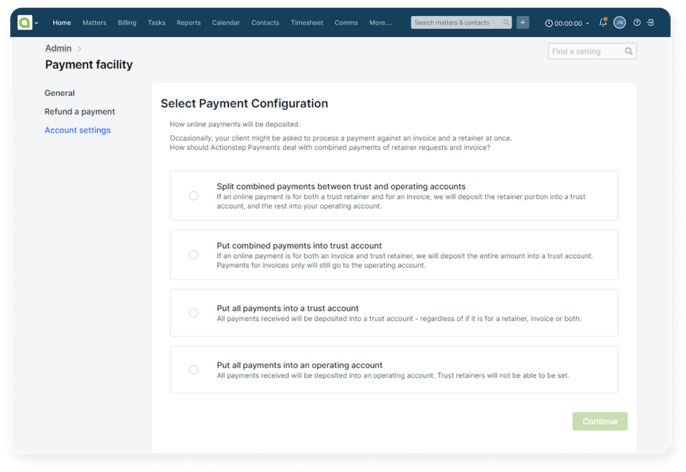 Way back in 2020, I wrote about how the pandemic had escalated the importance of electronic payments as a feature of law practice management software. That trend has only escalated since then, with any number of practice management platforms launching not just integrated e-payments from third-party payment processors, but their own native e-payments.
Now, another practice management platform is taking that step, as Actionstep, a cloud-based legal practice management software for mid-sized law firms, today launches Actionstep Payments, a built-in electronic payments solution for its customers in the United States.
The company said that the new feature provides flexible options for making online payments that will make it easier for a law firm's clients to pay invoices and that will save firms valuable time entering, processing, and chasing down payments.
It also eliminates the need for firms to use third-party payment providers to receive payments online from clients, which in some cases can create data silos and extra data entry.
More about Actionstep in the LawNext Legal Technology Directory.
The new Actionstep Payments feature is built natively within the Actionstep platform, enabling firms to send secure online payment links to clients and accept a variety of payment types, all within the platform. Payments are directly deposited into the law firm's operating or trust account.
The feature allows clients to view all their open invoices, pay multiple invoices at once, or make partial payments.
Firms can set a retainer linked to a matter, create automatic notifications, view outstanding client balances, and monitor key payment metrics.
The payments interface can be customized to the firm's logo and branding. (See featured image at top of post.)
"Our goal with Actionstep Payments is to simplify payments for both firm clients and teams," said Cody Bender, Actionstep's chief product officer.
Before launching the feature, he said, the company did a significant amount of market research and testing to ensure it developed a comprehensive payments solution.
"Beyond the benefit of eliminating much of the back-office administrative pain points caused by using separate payments providers, Actionstep Payments results in faster payments from law firm clients, improved fee collections, and a real work-life balance emphasis for countless firm administrators based on ease of use and feature flexibility," Bender said.
Actionstep, which says it is used by more than 775 law firms in the U.S., is presenting a webinar on the new feature on Nov. 3. Those interested in learning more about the new feature can visit: www.actionstep.com/product/actionstep-payments/.